Guerrilla Painter Plein Air Gessoed Panel™: 8 x 10
A lightweight, tempered, high-density hardboard panel coated with two coats of specially formulated acrylic gesso. Features a warm white surface that has just the right amount of tooth and absorbency for traditional oil and acrylic techniques. Acid free surface and formaldehyde free panel.
1/8" thick
Neat beveled edge
Matte surface
For oil and acrylics
Sold individually
Made in the USA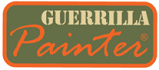 Guerrilla Painter is committed to providing quality and value. Products are designed by plein air artists for plein air artists. Guerrilla Painter understand what you need when you're painting out of your studio.
Guerrilla Painter's aim is to provide the tools you need to paint more paintings in more places but not to burden you with more than you need.
All Guerilla Painter products
This product is shipped from our warehouse in LaPorte, CO, USA.
This product can only be shipped to a United States address.
This product is brand new and includes the manufacturer's warranty, so you can buy with confidence.
Please submit your product question using this form. All fields are required.