Guerilla Painter A Guerrilla Painter's Notebook™ Volume III
The Guerrilla Painter, Carl Judson, continues his adventures, experiments and observations in this third volume of full-color images and stories. Includes over 60 images of paintings and essays on a range of topics.
29 pages. Softcover.
The essays in this book are:
A Notable Digression
Road Trip Nocturnes
Holiday Lights
Southwest Winter Road Trip
Back Alleys
November Road Trip
Grounded in Sedona
West Coast Road Trip
Using Photographs
The Case of the Purloined Paintboxes
Storage Problems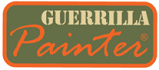 Guerrilla Painter is committed to providing quality and value. Products are designed by plein air artists for plein air artists. Guerrilla Painter understand what you need when you're painting out of your studio.
Guerrilla Painter's aim is to provide the tools you need to paint more paintings in more places but not to burden you with more than you need.
All Guerilla Painter products
This product is shipped from our warehouse in LaPorte, CO, USA.
This product can only be shipped to a United States address.
This product is brand new and includes the manufacturer's warranty, so you can buy with confidence.
Please submit your product question using this form. All fields are required.