Guerilla Painter A Guerrilla Painter's Notebook™ Volume II
This second volume of Guerrilla Painter's Notebook© is a compilation of essays by Carl Judson about his adventures and thoughts while plein air painting. Full of tips, humor, over 80 images of Carl's paintings, and plenty of inspiration, this book is a must have for any plein air painter's library. Includes a three-page fold-out essay of the panorama painting done from a high ridge on the ranch.
32 pages. Softcover.
The essays in this book are:
Limited Palettes
Painting Nevada
Confessions of a Turncoat
Paintings Around Montelimar
April Roadtrip
Plein Air Palette
Rainy Day Chairs
In Praise of Small Paintings
Money Can't Buy You Love
Visits with Hugh and Kay
Where to Stick It
Fences, Gates and Cattle Guards
Painting Buddy
Wildflower Rig
Panorama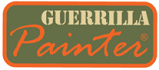 Guerrilla Painter is committed to providing quality and value. Products are designed by plein air artists for plein air artists. Guerrilla Painter understand what you need when you're painting out of your studio.
Guerrilla Painter's aim is to provide the tools you need to paint more paintings in more places but not to burden you with more than you need.
All Guerilla Painter products
This product is shipped from our warehouse in LaPorte, CO, USA.
This product can only be shipped to a United States address.
This product is brand new and includes the manufacturer's warranty, so you can buy with confidence.
Please submit your product question using this form. All fields are required.