Guerilla Painter Adapter: 4 x 6
Paint smaller! Paint on and carry two wet 4x6 panels back to back in the Pocket Box™ lid (see related products). Also can be nested in larger Panel Size Adapters and used with one of the Adjustable Wet Painting Carriers™.
Holds two 4x6 inch wet panels
Fits into the Pocket Box™ or the 5x7 Panel Size Adapter
No assembly required
½ inch wide stainless steel clips
Basswood laminate
Note: adapter and palette extension kit will not fit in the box together when lid is closed.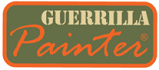 Guerrilla Painter is committed to providing quality and value. Products are designed by plein air artists for plein air artists. Guerrilla Painter understand what you need when you're painting out of your studio.
Guerrilla Painter's aim is to provide the tools you need to paint more paintings in more places but not to burden you with more than you need.
All Guerilla Painter products
This product is shipped from our warehouse in LaPorte, CO, USA.
This product can only be shipped to a United States address.
This product is brand new and includes the manufacturer's warranty, so you can buy with confidence.
Please submit your product question using this form. All fields are required.