Guerilla Painter ThumBox™ Oil & Acrylic Plein Air Kit: 6 x 8
In this 12 piece kit get the ThumBox™ plus supplies you need to get started painting. All you need to do is add paint and you are ready to start your painting adventures.
Kit Includes:
6x8 ThumBox™
6x8 ThumBox™ Bag
Large Mouth Single Palette Cup
Mighty Mite Jr™ Brush Washer
Guerrilla Painter® Composition Finder™
A Guerrilla Painter's Notebook© Vol 3 & 4
6x8 Guerrilla Plein Air Gessoed Panel
4-piece Short Handled Flat Brush Set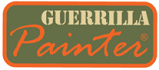 Guerrilla Painter is committed to providing quality and value. Products are designed by plein air artists for plein air artists. Guerrilla Painter understand what you need when you're painting out of your studio.
Guerrilla Painter's aim is to provide the tools you need to paint more paintings in more places but not to burden you with more than you need.
All Guerilla Painter products
This product is shipped from our warehouse in LaPorte, CO, USA.
This product can only be shipped to a United States address.
This product is brand new and includes the manufacturer's warranty, so you can buy with confidence.
Please submit your product question using this form. All fields are required.