Guerilla Painter Guerrilla Box™: 9 x 12
Our most popular pochade box is a complete studio in a box! It is appropriate for most plein air work and supports more accessories than our other boxes. Most artists find that they can store everything they need inside the spacious compartments - over 80% of the storage capacity of a French Easel. This box holds up to 4 wet 9"x12" panels (⅛" or ¼") or 1 wet stretched canvas completely enclosed. Featuring an adjustable lid bracket which positively locks in any position over a full 180° range with only one knob, leather handle, three large storage compartments under the sliding palette, universal tripod mount, stainless steel hardware, and a tie down strap to enable painting panels larger than 9"x12".
Holds 9x12 inch panel or canvas.
Use in your lap, on a table, or tripod.
Holds 4 wet panels in the lid.
Weighs only 5 lb.
Overall dimensions: 10" x 13" x 5".
Bottom is 2 1/2" deep underneath the sliding palette.
Comes with a Universal Tripod Mount installed.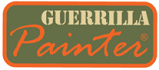 Guerrilla Painter is committed to providing quality and value. Products are designed by plein air artists for plein air artists. Guerrilla Painter understand what you need when you're painting out of your studio.
Guerrilla Painter's aim is to provide the tools you need to paint more paintings in more places but not to burden you with more than you need.
All products
This product is shipped from our warehouse in LaPorte, CO, USA.
This product can only be shipped to a United States address.
This product is brand new and includes the manufacturer's warranty, so you can buy with confidence.
Please submit your product question using this form. All fields are required.