Activa Sculptor's Wheel: 10" Diameter, Pack of 4
* Activa's THE Wheel, sculpture wheel.
* For a long time, sculptors frequently work on heavy cumbersome stands with turntables on the top surface to enable them to readily access all dimensions of their works.
* Today, the need remains the same, yet nobody wants to spend a lot for a large cumbersome stand...
* there's storage issues; working spaces are more compact: What to do? Activa's THE Wheel, sculptor's wheel is a practical, economical and durable alternative.
* A generous 10 3/4 inch diameter, with a slim profile of 1 1/2 inches deep our sculptors wheel is the perfect size to handle your working needs as well as storage issues.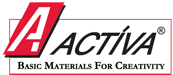 Established in 1959, Activa is the:
Largest Worldwide Producer of Instant Paper Mache
Largest Supplier of the Finest Quality Plaster Cloth (Rigid Wrap) In Retail & Educational Markets
Largest Producer of Colored Sand in North American Retail Market
Activa's current product segments include:
Art Education Hobby
Kids
Ceramics Home Décor
Craft Floral
All products exceed industry compliance standards ~ ASTMD-4236. Activa products are ACMI certified AP Non Toxic, CE, CA Prop 65, and LHAMA. All Products Are AIR DRY and are known for Consistency in Quality & Performance
All Activa Products products
This product is shipped from our warehouse in Marshall, TX, USA.
This product is brand new and includes the manufacturer's warranty, so you can buy with confidence.
Please submit your product question using this form. All fields are required.