Natural Pigments Walnut Oil Gel 130 ml
Details

Walnut Oil Gel is a thixotropic painting medium made with walnut oil and pyrogenic silica. Walnut Oil Gel is a clear pale amber gel that adds transparency and thixotropic body to oil, resin-oil or alkyd paint. Add directly to your paint to give it transparency without thinning its consistency. Add pigments or extenders to thicken it for creating impasto effects that do not sink in.

Walnut Oil Gel does not contain driers or solvents, so it is safe to use in oil painting without worry of cracking. When mixed with oil colors, Walnut Oil Gel will increase the drying time.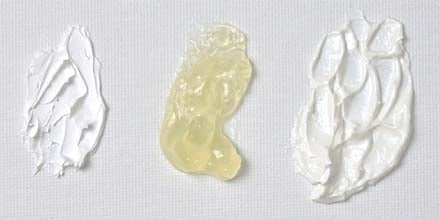 Walnut Oil Gel adds transparency to whites without losing the body of the paint
Walnut Oil Gel in the center, Lead White on the left and a mixture of Walnut Oil Gel and Lead White on the right. Lead White is stiff, plastic and short, but when mixed with Walnut Oil Gel the mixture is semi-transparent, soft, yet sculptural.
Walnut Oil Gel increases transparency without flow out and leveling
Rublev Colours French Raw Sienna at left and a mixture of Walnut Oil Gel and Raw Sienna on the right. Below each is a brush out of the above examples. Rublev Colours French Raw Sienna is long, yet holds strokes well. When Walnut Oil Gel is added to Raw Sienna it increases transparency without causing the flow out and leveling of brushstrokes.
Directions
Mix directly into your paint right on the palette.
To make your own paint with Walnut Oil Gel, add directly to pigment powder until a stiff paste is obtained (almost the consistency of putty). Grind the paste with a muller on a flat surface before storing in collapsible tube. Some of its thixotropic property will be temporarily lost when grinding Walnut Oil Gel with a muller, but should be restored when allowed to stand.
Health and Safety
There are no acute or known chronic health hazards associated with the anticipated use of this product (most chemicals are not fully tested for chronic toxicity). Always protect yourself against potentially unknown chronic hazards of this and other chemical products by keeping them out of your body. Do this by avoiding ingestion, excessive skin contact, and inhalation of spraying mists, sanding dusts and vapors from heating. Conforms to ASTM D-4236.

Natural Pigments is a limited liability company based in Willits, California. We manufacture and distribute rare and hard-to-find materials for fine artists and decorators. We specialize in supplying artists' materials that were used in historical painting since pre-historic times up to and including the nineteenth century.

We constantly search for materials and products of the finest quality so that we can bring them direct to you from the source. To do so, we travel the world to find materials specifically for use by professional artists and decorators. We obtain minerals from mines in Afghanistan, Chile, Russia, Ukraine and Uzbekistan, to name a few places, processing these into natural pigments. We purchase resins, gums and plants from India, Kenya and Malaysia to make natural varnishes and painting mediums.

Our mission is to provide the largest variety of natural pigments, paints and other professional artists' supplies, enabling us to bring you a selection that makes shopping for rare and hard-to-find art materials easy. Our objective is to promote the education and use of these materials among artists by providing detailed information for their employment in encaustic, fresco, oil, watercolor and tempera painting.
All Natural Pigments products
This product is shipped from our warehouse in Gretna, NE, USA.
This product is brand new and includes the manufacturer's warranty, so you can buy with confidence.
Please submit your product question using this form. All fields are required.