Mack Soft Stroke Lettering Brush Series 1992: #1, Hair Length 1-15/16"
* 100% Pure Blue Squirrel Hair
* Seamless Nickel Ferrules
* Black Polished Handles - Gold Tip
* This soft flat has a very clean edge with excellent control.
* You can letter very quickly and it lays out paint beautifully.
* Available in 7 sizes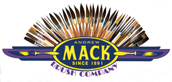 Andrew Mack and Son Brush Co. was founded in 1891, its history goes back to 1865. It was during that year that J.J. Deal founded his wagon and buggy factory in the small village of Jonesville, Michigan.

The Deal factory quickly gained the reputation of building the finest carts, wagons and carriages in the Midwest. The products were first class in every detail - even the paint!
All Mack Brush products
This product is shipped from our warehouse in Jonesville, MI, USA.
This product is brand new and includes the manufacturer's warranty, so you can buy with confidence.
Please submit your product question using this form. All fields are required.