American Educational Block Printing Rectangle: 4" x 6", Blue
* AMEP's block printing material is unique and versatile.
* This high quality printmaking polyvinyl chloride (PVC), is available in various sizes and two shapes.
* These blocks do not crack, break or crumble.
* The smooth, non-slip carve greatly reduces the possibility of classroom accidents usually associated with lino block printmaking.
* Score, bend, and tear the blocks to make smaller pieces that best fit your project.
* The 0.5" thickness allows for printing on both sides and is great for beginners who may dig into the material.
* When carving is complete these blocks can be used on various types of roto presses as well as in printing presses or can be transferred by simply applying pressure to the block.
American Educational Products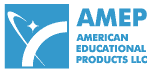 AMEP have been supplying the highest quality classroom materials domestically and internationally for more than 70 years. With our creative in-house product development team, we are able to introduce new products on a yearly basis. Our products have helped teachers bring the joy of discovery, through hands-on and investigative learning styles, to generations of students. We are sincerely proud of our legacy and we promise to strive to meet the needs of present and future students as they prepare to become knowledgeable and successful world citizens.
All American Educational Products products
Product weight:

0.56

lbs
Product dimension:

6" x 4" x 0.5"
This product is shipped from our warehouse in Fort Collins, CO, USA. It takes about 4 business days for the warehouse to process the order.
  If you are a
business buyer
, willing to place an order for 1000$ and more for this product or any products form the same
product line
- we offer you choosing a phone order option at the checkout.
  In this case your credit card would not be charged. After placing order our Customer Service representative will call you with a personal offer including special shipping quote and price discounts.
  All the transactions will happen after you confirm all order details .
  Your goal now is to add products to cart, provide company name when register and choose "Phone order" payment method at checkout... In any case - you could call our customer service and place order by phone.
Purchase orders from educational institutions and governmental bodies are welcome too!
This product is brand new and includes the manufacturer's warranty, so you can buy with confidence.
Please submit your product question using this form. All fields are required.