Prima Diamond Edge Painting Knife
* Precision painting tool, designed by Bill DeLoach, 'Master of the four hour workshop, for our Prima line of art materials.
* Knife has precision edges for detail, yet readily achieves the non fussy results of impasto painting.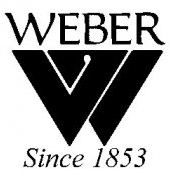 For a century and a half, the name Weber has been synonymous with quality art materials. Established in 1853 in Philadelphia, Pennsylvania, the Martin/F. Weber Co. is the oldest and one of the largest manufacturers of art materials in the United States. Originating in 1853 as Scholz & Company, a sales agency, the company evolved through a series of growth partnerships to become F. Weber and Company in 1887, under the leadership of its owner, Frederick Weber. Throughout the late 19th century, F. Weber and Company offered a wide range of imported and manufactured products. A significant number of patents for innovative art products were awarded to the company.
All products
This product is shipped from our warehouse in Philadelphia, PA, USA.
This product is brand new and includes the manufacturer's warranty, so you can buy with confidence.
Please submit your product question using this form. All fields are required.


---
QUESTION
Looking for a diamond edge painting knife for my father. He is asking for size dimensions and product range. Thanks
asked on Nov 17, 2015
BEST ANSWER
I have checked the dimensions and product range for this item Prima Diamond Edge Painting Knife and that is 8 x .5 x .1.
answered by Mary (Staff) on Nov 18, 2015